School is back in session. And along with weighted down backpacks and freshly sharpened pencils comes the back to school scheduling crush. Soccer, lacrosse, ballet lessons, whatever it is that keeps the kids busy after school also, inevitably, keeps you running around a bit, maybe not thinking too much about what to make for supper. However it's nice with the return to routine that September brings to start cooking at home again. But in the interest of staying sane and satisfied, maybe you need a little meal time inspiration. Try this panzanella salad which comes together in minutes, tastes delicious and makes the most of the late season tomatoes that are still so good.
PANZANELLA SALAD
A few perfectly ripe tomatoes
A few slices of good quality, day old bread
Basil leaves
Arugula ¼ red onion, diced
Boiling water
3 tbs. olive oil
1 ½ tbs. red wine vinegar
Pinch sugar
¼ tsp. Dijon mustard
Salt
Pepper
Preheat your oven to 375. Chop bread into crouton-sized cubes and toss with about two tablespoons olive oil on a cookie sheet. Season with salt and pepper and set to bake in the oven for 15-20 minutes, turning once to ensure even browning. Remove croutons and let cool. While your croutons cool, dice the red onion and pour boiling water over. Let sit until cool, drain and set aside. Working over your salad bowl to catch all the good stuff, slice your tomatoes into bite sized chunks. Add a pinch of salt and a few cranks of pepper and your croutons. Toss together so that the croutons can soak up the delicious tomato juices.
In a small jar combine red wine vinegar, olive oil, Dijon mustard, sugar and a pinch of salt and pepper. Clamp the lid on your jar and shake vigorously to emulsify. Add to your salad bowl a handful of torn basil leaves and about two handfuls of baby arugula. Add your onion and a generous drizzle of dressing. Toss together completely to combine and serve immediately, with extra dressing on the side if desired. Because this salad is bulked up a bit with the addition of nice crusty croutons you could make this a complete meal by adding some grilled chicken, fish or steak tips on the side. Fresh, filling, delicious and it comes together quickly: it's a back to school miracle!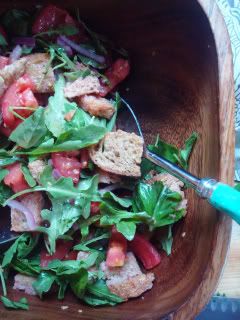 (recipe and photos courtesy of)